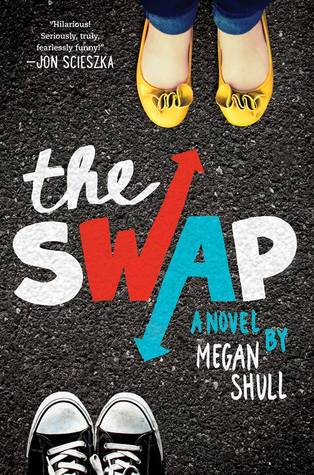 Genre: YA Contemporary
Published: August 26, 2014 by Katherine Tegen Books
Length: 400 pages
Source: Katherine Tegen Books (ARC)
"YOU BE ME…AND I'LL BE YOU."
ELLIE spent the summer before seventh grade getting dropped by her best friend since forever. JACK spent it training in "The Cage" with his tough-as-nails brothers and hard-to-please dad. By the time middle school starts, they're both ready for a change. And just as Jack's thinking girls have it so easy, Ellie's wishing she could be anyone but herself.
Then, BAM! They swap lives—and bodies!
Now Jack's fending off mean girls at sleepover parties while Ellie's reigning as the Prince of Thatcher Middle School. As their crazy weekend races on—and their feelings for each other grow—Ellie and Jack begin to realize that maybe the best way to learn how to be yourself is to spend a little time being someone else."
This book was such a fantastic read. I never thought I would love it because I thought the characters were going to be annoying & too immature for me since they are 12 and 13 year olds. This is told in 1st person dual point of view of Ellie (Elle) and Jack. Ellie is in 7th grade and is trying to fit in while Jack is in 8th grade and is trying to cope with his mother's death. These two characters swap bodies during the first day of school and it was just fun to read how they tackle each other's lives. Since the book has two narrators, I'm happy to say that I was not confused on who was narrating at all because Ellie and Jack are very different from one another. Ellie is this 7th grader who just wants to fit in by trying to befriend her ex-best friend Sassy, the most popular girl in school while Jack sees all of Sassy's flaws and knows how true friends should be.
One of the things I love about this book is how Ellie and Jack changed as a person ever since they swapped bodies. Ellie was whiny at the beginning, but by being in Jack's body and life, she learns a lot of lessons from Jack's brothers and she changed big time as the story progresses. What I loved about Jack is that he is so caring! I wish there was more like him in real life. He is very understanding, polite, positive, and funny.
Besides the two main characters, I also loved the supporting characters! The author did a fantastic job of giving them distinct personalities. I especially loved Jack's brothers (Gunner, ) because they are so headstrong and supportive! I also like how they are all respectful especially to their father even though he is very pushy and doesn't settle for "good". Their father wants them to strive in hockey and life in general but he pushes them so hard that sometimes the boys doesn't think he loves them. The only thing I did not like about the brothers is that I feel like the only words they know are "bud, bro, nails, tough". Sometimes I'd be like "can you please expand your vocabulary" lol.
Overall I just love how even though the two main characters have different lives, they were able to learn from each other's lives and apply it to the real world. There are a lot of lessons to take from the story even if it is a light and easy read. The characters were very real and relatable. Although some things were a bit cliche in the book, it did not really bother me. I was engaged the whole time and I recommend it to everyone!