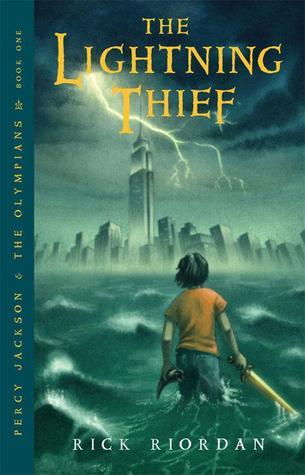 Genre: YA Fantasy
Published: March 1, 2006 by Disney Hyperion
Series: #1 (Percy Jackson and the Olympians)
Length: 377 pages
Source: bought
"Percy Jackson is a good kid, but he can't seem to focus on his schoolwork or control his temper. And lately, being away at boarding school is only getting worse-Percy could have sworn his pre-algebra teacher turned into a monster and tried to kill him. When Percy's mom finds out, she knows it's time that he knew the truth about where he came from, and that he go to the one place he'll be safe. She sends Percy to Camp Half Blood, a summer camp for demigods (on Long Island), where he learns that the father he never knew is Poseidon, God of the Sea. Soon a mystery unfolds and together with his friends — one a satyr and the other the demigod daughter of Athena — Percy sets out on a quest across the United States to reach the gates of the Underworld (located in a recording studio in Hollywood) and prevent a catastrophic war between the gods."
This book was such a fun read! I was hooked on from start to finish because of the adventures and plot twists. I have seen the movie before I read the book (which I don't normally do) and when I read Lightning Thief, I realized they left out so many details in the movie! If you have seen the movie and have not read the book, I recommend you reading it because there is a lot more to the story! It is told in 1st person point of view of Percy Jackson, the protagonist of this book.
Percy is such a kick ass character. Although he is still a kid, he is so brave and smart. He does not back out from fights and missions which made me admire him more. I also like how he loves and cares about his mother so much! It is so cute seeing Percy protecting his mother from his step father who treats them like they are useless. Another character that I liked in this book is Grover, Percy's best friend. I think out of all the characters in this book, he is the one who will show a big character development. Grover starts out as being shy, worried, and negative ("I-can't-do-this-I'm-not-good-enough" kind of negative). But as the story goes on, he breaks out from his shy personality a little bit and starts cracking jokes. I think Grover is what really made this book a fun read. The other protagonist in this book is Annabeth, another demigod whom Percy meets in Camp Half Blood. I love how she is so intelligent and sassy! Although she is still young like Percy, she is so independent and responsible.
Riordan was very descriptive of the places Percy and his friends venture off to which I appreciated. I enjoyed imagining the different settings the story took place which were New York, Las Vegas, Camp Half Blood, and the Underworld to name a few. Overall this book was such a blast. The book was so unpredictable and just filled with adventure. It is easy to get your nose glued in this book so make sure you have a lot of time before you read this.