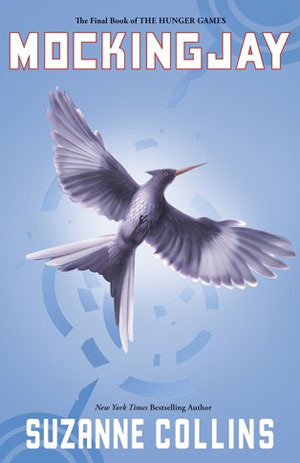 Genre: YA Dystopian
Published: August 24, 2010 by Scholastic Press
Series: #3 (The Hunger Games)
Length: 390 pages
Source: bought
"My name is Katniss Everdeen.
Why am I not dead?
I should be dead.
Katniss Everdeen, girl on fire, has survived, even though her home has been destroyed. Gale has escaped. Katniss's family is safe. Peeta has been captured by the Capitol. District 13 really does exist. There are rebels. There are new leaders. A revolution is unfolding.
It is by design that Katniss was rescued from the arena in the cruel and haunting Quarter Quell, and it is by design that she has long been part of the revolution without knowing it. District 13 has come out of the shadows and is plotting to overthrow the Capitol. Everyone, it seems, has had a hand in the carefully laid plans–except Katniss.
The success of the rebellion hinges on Katniss's willingness to be a pawn, to accept responsibility for countless lives, and to change the course of the future of Panem. To do this, she must put aside her feelings of anger and distrust. She must become the rebels' Mockingjay–no matter what the personal cost."
Mockingjay was such a depressing read especially when you get to the second half of the book. Although it was a great end to the trilogy, it is my least favorite out of the whole trilogy. I do not think this book was bad, but compared to the first two books, this was less action packed and exciting. This book is told from Katniss's point of view like the rest of the books in the trilogy, and is divided up into three parts. The action scenes did not really start until the second half of the book which were crazy! That is all I'm going to say. My mouth was literally hanging from all the unpredictable twists.
There weren't a lot of romance scenes compared to the first two books which I am glad because if I were in a revolution, finding a mate is the last thing I'd do. I'm kind of in between about Collin's writing style because some of her wordings and descriptions were really confusing. It was hard to picture what was happening in some of the action scenes, yet I love Katniss's propaganda lines. Her line "if we burn, you burn with us!" sent me chills. It was so good and just shows how Katniss is a true leader since she will do anything to bring Snow down.
For the characters, they were perfectly written as always. I love how we got to know more about Finnick and Gale in this book because we didn't really get to know them during the first two books. Effie and Haymitch were just hilarious in this book. Like I said, this book was depressing, but those two characters made the situation light at times. There were, of course, amazing character development with Katniss, Peeta, Prim, and the other Hunger Games tributes. I think that's the best part of this book. They have changed a lot and Collin did a fantastic job making the characters so realistic. Like, if I were in their condition, I would probably do the same thing. There are other new characters in this book that I was immediately attached to which I think is great because I think it's very difficult for an author to write a character and have the reader immediately be attached to that character.
Overall Mockingjay was a fantastic, action-packed conclusion to the trilogy. It is definitely worth the money and read. There are a lot of mystery, thrill, and tears.