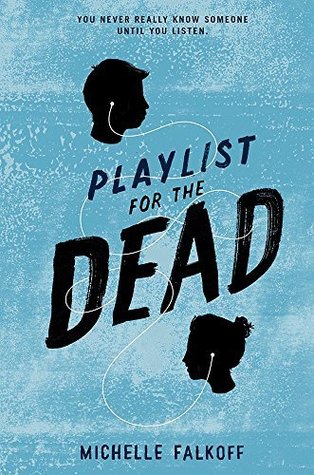 Genre: YA Contemporary
Published: January 27, 2015 by HarperTeen
Length: 288 pages
Source: HarperTeen (ARC)
"A teenage boy tries to understand his best friend's suicide by listening to the playlist of songs he left behind in this smart, voice-driven debut novel.
Here's what Sam knows: There was a party. There was a fight. The next morning, his best friend, Hayden, was dead. And all he left Sam was a playlist of songs, and a suicide note: For Sam—listen and you'll understand.
As he listens to song after song, Sam tries to face up to what happened the night Hayden killed himself. But it's only by taking out his earbuds and opening his eyes to the people around him that he will finally be able to piece together his best friend's story. And maybe have a chance to change his own.
Part mystery, part love story, and part coming-of-age tale in the vein of Stephen Chbosky's The Perks of Being a Wallflower and Tim Tharp's The Spectacular Now, Playlist for the Dead is an honest and gut-wrenching first novel about loss, rage, what it feels like to outgrow a friendship that's always defined you—and the struggle to redefine yourself. But above all, it's about finding hope when hope seems like the hardest thing to find."
Playlist for the Dead was a good read, but I think it could have been way better. The storyline could have been improved because the first 60% of the book was dragging. I feel like the author was putting filler scenes at times which made me a bit bored. There is mystery in this book which made me keep on reading, but after a while, the mystery part of the book got boring because I could kind of see where the story was heading to. This book is told in first person p.o.v. by our main character Sam. His best and only friend, Hayden, commits suicide, and he tries to find out why. The only clue he has is this playlist Hayden left behind for him.
Sam was a likable protagonist. His character was very realistic and I like how he tries to be open minded. The character development was very slow though. The love interest, Astrid, was okay. I wish there was more background and character development in her part. I feel like the author was trying to get there, but then cut it short. I felt the same way with the other characters such as Eric (Astrid's best friend), and the bully trifecta (Ryan, Trevor, and Jason). We only got a snippet on who they are and I wish the author dissected more of their past for us. I do like Sam's sister, Rachel, and her boyfriend Jimmy. Although she and Jimmy only had a small part in the book, they were the most memorable characters for me. They were very understanding to Sam, and even though Jimmy had just been introduced to Sam, they quickly bonded since Jimmy can relate to what Sam is feeling.
I think what I disliked about this book is that the tone felt flat. Usually when I read heavy contemporary books, I feel strong emotions, but in this one, my feels were as flat as Kristen Stewart's acting (just kidding). I had blank, zero, nada feels and I see this book as just "okay, done with this one…next!". I didn't feel any book hangover after finishing it which I usually do (i.e. when I read 13 Reasons Why, Faking Normal, The Duff, Wonder, etc.). Overall I still recommend it because you do get something out from the story.