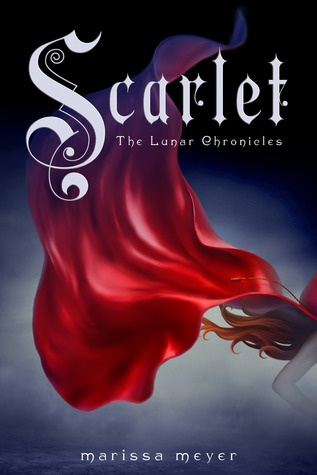 Genre: YA Sci-Fi
Published: February 5, 2013 by Feiwel and Friends
Series: #2 (Lunar Chronicles)
Length: 452 Pages
Source: bought (at Barnes & Noble)
"Cinder, the cyborg mechanic, returns in the second thrilling installment of the bestselling Lunar Chronicles. She's trying to break out of prison–even though if she succeeds, she'll be the Commonwealth's most wanted fugitive.
Halfway around the world, Scarlet Benoit's grandmother is missing. It turns out there are many things Scarlet doesn't know about her grandmother or the grave danger she has lived in her whole life. When Scarlet encounters Wolf, a street fighter who may have information as to her grandmother's whereabouts, she is loath to trust this stranger, but is inexplicably drawn to him, and he to her. As Scarlet and Wolf unravel one mystery, they encounter another when they meet Cinder. Now, all of them must stay one step ahead of the vicious Lunar Queen Levana, who will do anything for the handsome Prince Kai to become her husband, her king, her prisoner."
Scarlet was such a fantastic read! If you didn't know, this is a re-telling of the Little Red Riding Hood and is a continuation of the first book, Cinder. What made me kept my nose glued to this book is that I wanted to know what Scarlet's relation is to Cinder. I kept wondering "what is the connection between Scarlet and Cinder? How and when are they going to meet?". I also liked how the story takes place in two different countries: France (where Scarlet is) and China (where Cinder is). I thought Marissa Meyer pulled it off.
I really liked how Scarlet and Cinder were such badasses. Scarlet is determined to protect her grandmother and is willing to sacrifice herself in order for her grandmother to live. I also like how she broke the archetype of females being the damsel in distress. Cinder didn't appear in the story as frequently as Scarlet (which makes sense since the title is Scarlet lol) but I thought that was okay! I think Cinder really matured in this book. She's such an admirable character because even though I know she's hurt in the inside from all the horrible situations she's been in, she is still as tough as nails.
The romance was great too! Since the summary doesn't introduce the two new guy characters in this book, I won't be telling you about them. Just know that they're hilarious! Overall if you enjoyed the first book, I think you should definitely read Scarlet because the story just keeps getting better and better. I don't see myself rereading Scarlet or say it's my favorite book (since I am a sci-fi fan) but I thought it was an awesome read nonetheless.