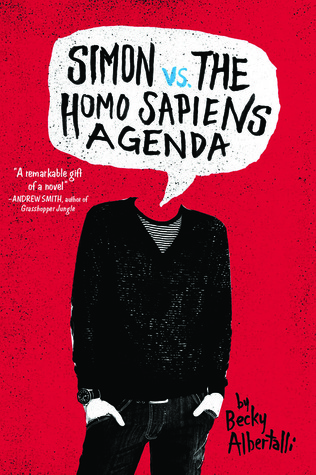 Genre: YA Contemporary
Published: April 7, 2015 by Balzer + Bray
Length: 320 Pages
Source: Balzer + Bray (ARC)
"Sixteen-year-old and not-so-openly gay Simon Spier prefers to save his drama for the school musical. But when an email falls into the wrong hands, his secret is at risk of being thrust into the spotlight. Now Simon is actually being blackmailed: if he doesn't play wingman for class clown Martin, his sexual identity will become everyone's business. Worse, the privacy of Blue, the pen name of the boy he's been emailing, will be compromised.
With some messy dynamics emerging in his once tight-knit group of friends, and his email correspondence with Blue growing more flirtatious every day, Simon's junior year has suddenly gotten all kinds of complicated. Now, change-averse Simon has to find a way to step out of his comfort zone before he's pushed out—without alienating his friends, compromising himself, or fumbling a shot at happiness with the most confusing, adorable guy he's never met."
I'm really happy that this was my first YA LGBT read because it was amazing! I was a bit worried that I'll end up as the black sheep and not like this book because in the beginning, I was having a hard time getting into the story. Simon had lots of friends and I couldn't keep track who was who because their personalities sounded the same and that basically turned me off a bit. I took a mini break and stopped 30% of the book, but I'm so glad I picked it up again because the story and characters really got interesting. I love how there's a mystery aspect in the story and the emailing back and forth between Simon and "Blue". I couldn't stop reading because I just had to know who Blue was! I had a few guesses but I was so happy when I found out at the end that my speculations were wrong.
Besides the mystery, I also love the characters. All of them were awesome and there were definitely character development especially for Simon and Blue. I can only imagine how challenging it is to come out of the closet, but in the story, Simon tells us that why is it so hard to come out? Why is straight always the default? etc. I really liked the questions he raised in the story because it made me think "huh, why is that?". I also love how not only does this book involve friendship, but family relations as well. I like how the author shows us how much Simon's family cares for him. It's not one of those books where the parents suddenly goes on a vacation. Overall this book was an amazing and fun read! I recommend it to everyone especially if you love contemporary books. If you have not read any YA LGBT books, you should definitely start with Simon vs The Homo Sapiens Agenda.