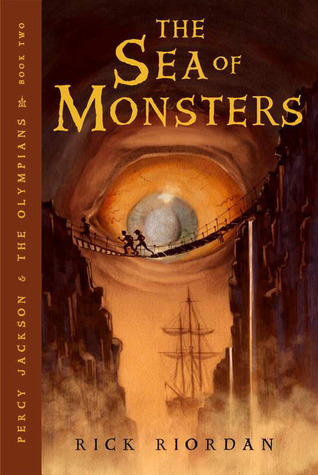 Genre: YA Fantasy
Published: April 1, 2006 by Disney Hyperion Books
Series: #2 (Percy Jackson and the Olympians)
Length: 288 pages
Source: Bought
"The heroic son of Poseidon makes an action-packed comeback in the second must-read installment of Rick Riordan's amazing young readers series. Starring Percy Jackson, a "half blood" whose mother is human and whose father is the God of the Sea, Riordan's series combines cliffhanger adventure and Greek mythology lessons that results in true page-turners that get better with each installment. In this episode, The Sea of Monsters, Percy sets out to retrieve the Golden Fleece before his summer camp is destroyed, surpassing the first book's drama and setting the stage for more thrills to come."
The Sea of Monsters is a fantasy sequel to the first book! It was so action packed that I flew through this book within a day. I have NEVER binged read a series before, and this book just makes me want to finish the whole series asap because I want to know what happens to Percy and the gang. In this book, something bad happens to Camp Half Blood and it's up to Percy and Annabeth to save the day again.
I just love Rick Riordan's writing. It really does feel like Percy is narrating the story. It's amazing how he can bring each of his characters to life through written words. Even though Percy Jackson is still a child in this book, I can see that he's becoming more mature and responsible. Although we don't get to see much of Grover in this book, he's still hilarious as ever! Annabeth still has that I- know-it-all attitude, but I still like her character. She's brave, wise, and kick-ass and I can't wait to see more of her adventures with Percy.
I also love how we are introduced to other mythical creatures like Hermes, the Siren, etc. I haven't brushed up on my Greek God 411 since my freshman year of high school (5 years ago) so I'm interested in to reading more about these Greek creatures. This is the type of series that will get you out of that reading slump so I suggest you read it asap! Overall this book was all I could hope for. It's definitely worth the time and money.