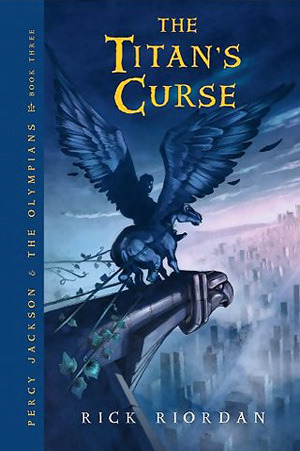 Genre: YA Fantasy
Published: April 8, 2008 by Disney Hyperion
Series: #3 (Percy Jackson and the Olympians)
Length: 320 pages
Source: bought
"When Percy Jackson receives an urgent distress call from his friend Grover, he immediately prepares for battle. He knows he'll need his powerful demigod allies at his side; his trusty bronze sword, Riptide; and . . . a ride from his mom.
The demigods race to the rescue to find that Grover has made an important discovery: two new powerful half-bloods, whose parentage is unknown. But that's not all that awaits them. The Titan lord, Kronos, has set up a devious trap, and the young heroes have just fallen prey.
Hilarious and action-packed, this third adventure in the series finds Percy faced with his most dangerous challenge yet—the chilling prophecy of the Titan's curse."
I'm amazed and blown away again by Rick Riordan's writing and story. What I love the most about this book is how I can easily connect with the characters. It doesn't matter whether it's the protagonist or side characters; I can relate to ALL OF THEM (even the antagonists). I am so glad we got to know more of the gods! Those pesky gods seems useless to me to be honest because they just leave all the problems up to Percy & friends. Like, HELLO!? You call yourselves gods yet you guys are just sitting on top of New York!? So I'm really glad that they finally decide to show up and offer a bit of help to Percy.
I enjoy following Percy's adventures with Grover and the other side characters because not only are they action packed, but these characters are totally hilarious! I think this book has more action scenes and plot twists compared to the first two books. Unfortunately, I found some of the action scenes and revelations a little bit confusing which is why I only gave it a 4.5 stars. Nonetheless, it does not disappoint and I'm even more intrigued on how this book is going to end. Overall I highly recommend you to read this series. My reading slump has finally dwindled away, and I can't wait to read The Battle of the Labyrinth next!