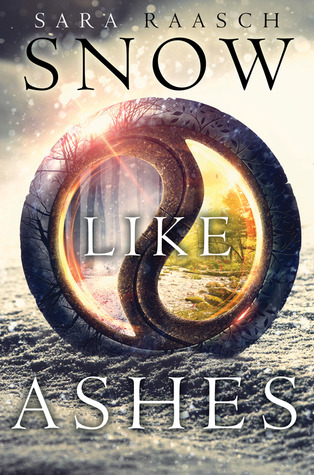 Genre: YA Fantasy
Published: October 14, 2014 by Balzer + Bray
Series: #1 (Snow Like Ashes)
Length: 416 pages
Source: Balzer + Bray (ARC)
"A heartbroken girl. A fierce warrior. A hero in the making.
Sixteen years ago the Kingdom of Winter was conquered and its citizens enslaved, leaving them without magic or a monarch. Now, the Winterians' only hope for freedom is the eight survivors who managed to escape, and who have been waiting for the opportunity to steal back Winter's magic and rebuild the kingdom ever since.
Orphaned as an infant during Winter's defeat, Meira has lived her whole life as a refugee, raised by the Winterians' general, Sir. Training to be a warrior—and desperately in love with her best friend, and future king, Mather — she would do anything to help her kingdom rise to power again.
So when scouts discover the location of the ancient locket that can restore Winter's magic, Meira decides to go after it herself. Finally, she's scaling towers, fighting enemy soldiers, and serving her kingdom just as she's always dreamed she would. But the mission doesn't go as planned, and Meira soon finds herself thrust into a world of evil magic and dangerous politics – and ultimately comes to realize that her destiny is not, never has been, her own."
There are books that you are dying to finish because you're excited to see how the author will end the book, and there are books you are just dying to finish so you're finally done with it. Unfortunately, this book falls under the second category for me. Snow Like Ashes was such a huge disappointment. I was hoping for an epic fantasy read with a strong heroine, but I got a whiny, annoying heroine instead. Meira, the main character, is probably the whiniest protagonist ever. I have never been so annoyed with a character before. She tries too hard and nags everyone to let her fight their kingdom's enemies which she fails miserably at.
I did not like the writing style as well. Most of the time we're in Meira's head so instead of jaw dropping action scenes, we get something like "I'm Meira and I can save Winter. I will fight for Winter. I will show them that they are wrong…that I can make a difference" (that's not from the text btw) but she's talking about how she's going to make a difference but she doesn't. THEN after she whines how Sir, her father/the Winterian general, does not allow her to fight, she WHINES again when Sir gives her a big task that will actually grant her wish of "making a difference" to her kingdom *flips the table*. I was so DONE reading what Meira was thinking. It's so sad that there weren't a lot of action scenes because if there were, I would've liked this book better. The action scenes doesn't really happen until the end of the book, and by then, I was just counting how many pages were left so I can finally close the book.
The supporting characters were whatever… At least they weren't annoying like Meira. They could have been more likable if there were character development especially with the king of Winterian/love interest of Meira: Mather. The romance could also been likable but it just screamed INSTA LOVE. But wait, there's more. There is also a LOVE TRIANGLE that could have worked. I actually kind of like the other love interest, but too bad the spotlight wasn't shined enough on him. Overall if you are looking for a fast paced fantasy book with an epic heroine, this might not be for you.