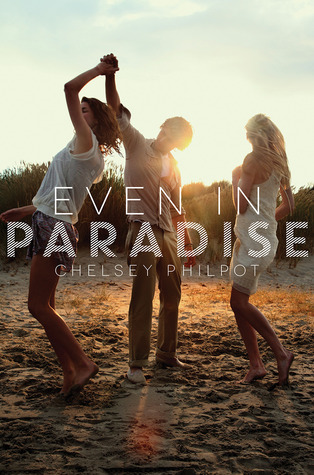 Genre: YA Contemporary
Published: October 14, 2014 by HarperCollins
Length: 368 pages
Source: HarperCollins (ARC)
"When Julia Buchanan enrolls at St. Anne's at the beginning of junior year, Charlotte Ryder already knows all about the former senator's daughter. Most people do… or think they do.
Charlotte certainly never expects she'll be Julia's friend. But almost immediately, she is drawn into the larger than-life-new girl's world—a world of midnight rendezvous, dazzling parties, palatial vacation homes, and fizzy champagne cocktails. And then Charlotte meets, and begins falling for, Julia's handsome older brother, Sebastian.
But behind her self-assured smiles and toasts to the future, Charlotte soon realizes that Julia is still suffering from a tragedy. A tragedy that the Buchanan family has kept hidden… until now."
Yeah..this book…nooo… I did not like or enjoy reading Even In Paradise at all. I was so bored throughout the book. The only part I liked was the first 10% of the book and the last 10%. Other than that, I was DYING to finish it so I could move on and read another book.  I think this is the first ever YA Contemporary book I'm giving a 2/5 stars. I LOVE contemporary books; it's my favorite YA category, so I was surprised that I did not like this one. The characters were just SO annoying especially Julia. She's a senior in high school but acts like an annoying 5 year old. Charlotte a.k.a. Charlie (Julia's bff) on the other hand was a push over. She was like obsessed with the Buchanan family which I found really weird. One call from Julia and she flies to Arcadia which is where the Buchanan family lives. Like, dude, what about your own life? Your own family? This book reminded me a lot of The Great Gatsby (there's actually also a reference of TGG in the book) which I also disliked so maybe that's why? I guess if you loved The Great Gatsby, then you'll like this one as well.
I could not relate to any of the characters so there's that…and I really disliked the Buchanan family. They always relied on Charlotte and treated her as their savior or whatever. Um. Okay… I also do not understand why Charlotte instantly became bff with Julia. They don't even know each other! Charlotte just found Julia outside of her dorm, drunk, so Charlotte let her stay in her dorm, and next thing you know BAM they're like inseparable sisters. One thing I did get out of (after reading the last pages of the book) is that people may seem happy and flawless on the outside, but they're hiding something on the inside. The 'secret' stuff was kind of predictable too. The summary's a bit misleading also because the mystery doesn't really come up until the last few chapters of the book. Everything else in between were about Julia's day to day life etc. Overall I don't recommend this book. If I had to describe it in one word, it would be boring.