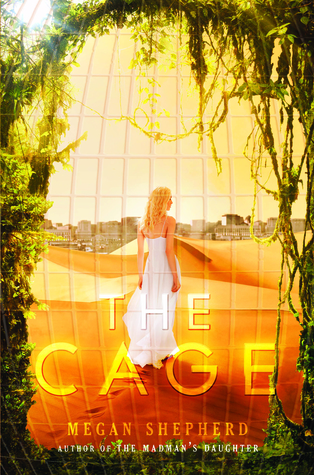 Genre: YA Sci-Fi
Published: May 26, 2015 by Balzer + Bray
Series: #1 (The Cage)
Length: 400 pages
Source: Balzer + Bray (ARC)
"When Cora Mason wakes in a desert, she doesn't know where she is or who put her there. As she explores, she finds an impossible mix of environments—tundra next to desert, farm next to jungle, and a strangely empty town cobbled together from different cultures—all watched over by eerie black windows. And she isn't alone.
Four other teenagers have also been taken: a beautiful model, a tattooed smuggler, a secretive genius, and an army brat who seems to know too much about Cora's past. None of them have a clue as to what happened, and all of them have secrets. As the unlikely group struggles for leadership, they slowly start to trust each other. But when their mysterious jailer—a handsome young guard called Cassian—appears, they realize that their captivity is more terrifying than they could ever imagine: Their captors aren't from Earth. And they have taken the five teenagers for an otherworldly zoo—where the exhibits are humans.
As a forbidden attraction develops between Cora and Cassian, she realizes that her best chance of escape might be in the arms of her own jailer—though that would mean leaving the others behind. Can Cora manage to save herself and her companions? And if so . . . what world lies beyond the walls of their cage?"
Dang this book blew my mind! I've never read anything like The Cage. I loved everything about this book; the characters, the world building, the mystery were all written and executed well. Right from the first chapter, I was hooked on because there is already suspense and mystery going on. Although this book is told in 5 different perspectives and 3rd person point of view, I promise you it is not confusing because each character is unique and easily distinguishable from each other. I actually like that it is told in 3rd person because it adds more mysterious vibe. The world building was really cool too. The characters were put in an enclosed cage that is like a replica of what can be found on earth (a jungle, desert, ocean, forest, mountains, towns, etc.). I could easily picture what the author was describing which for me made it feel like watching a movie instead of reading a book.
What I loved most about the characters is that they were all flawed. They reminded me of some of the characters from Golding's Lord of the Flies except the characters in The Cage are a bit older. Like I said, there are 5 characters in this book who are trapped in a "cage"; there are 3 boys and 2 girls and I love how they are diverse. They are from different countries, and they were chosen by their captors for a reason.
The mystery was really good! It kept me reading because I wanted to know why the characters were taken and what happened to Earth. Besides that, the characters also had to solve puzzles and in return, they would get tokens so they can purchase things they like from the town. I wish the author gave more focus on those puzzles to add more mystery though. I also wish that the author was clearer in her descriptions of the aliens because I kind of found it difficult to picture their appearance. Other than that, this book was an awesome sci-fi read. I think this is my first book where there are aliens involved (I tend to avoid sci-fi books w/ aliens because I find them corny) but this one fits the story. Overall I highly recommend you The Cage. Pre-order it if you can! I can't wait to read the next book because that cliffhanger was just mean!