Hey everyone! If you missed part 1 of my blog's 2nd anniversary, check it out here where I interview Emil Ostrovski author of The Paradox of Vertical Flight! Today I have the wonderful Rosamund Hodge who wrote one of my favorite Beauty & the Beast retelling, Cruel Beauty. Before we get on to the interview, here is a little bit about her…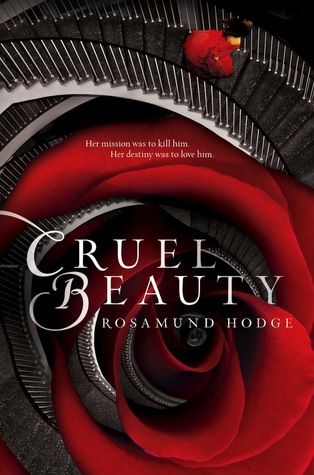 I love mythology, Hello Kitty, and T. S. Eliot. My debut novel is CRUEL BEAUTY, a YA fantasy where Greek mythology meets Beauty and the Beast.
Q: One of the things I loved about Cruel Beauty is the way you mixed Greek mythology with Beauty and the Beast. Was it difficult to intertwine them?
No, actually, because the parallels between Greek mythology and Beauty and the Beast were what inspired me in the first place. When I was a kid, one of my favorite myths was the story of of Cupid and Psyche. Briefly—an oracle tells the king he has to sacrifice his daughter to a "monster." But the daughter, Psyche, isn't devoured by a beast as she expects; instead, the wind carries her to a strange palace with invisible servants who tell her that she is a bride. And every night her husband comes to visit her—but he forbids her to see his face. When her jealous sisters persuade her light a candle anyway, she discovers that he's Cupid, the god of love. But because she broke his command, he becomes a prisoner of his mother Venus, and Psyche must complete a series of impossible tasks—ultimately going to the Underworld—in order to free him.
As much as I loved the story of Cupid and Psyche, I never planned to write a retelling of it. In a way, it felt too perfect: what could I add? Then a few years ago, I read the fairy tale East of the Sun, West of the Moon, which is basically a half-and-half mix of Beauty and the Beast with Cupid and Psyche. (The girl marries a polar bear, who turns out to be an enchanted prince trying to escape the princess of trolls.) Suddenly I realized that all three stories were the same story, working itself out in different ways. And that was the birth of Cruel Beauty.
Q: Your favorite quote from Cruel Beauty?
"He made his choice, and lief or loath he shall have it until the end of time."
(I have, no joke, been waiting to use the phrase "lief or loath"—an archaic way of saying "willing or unwilling"—since I was fourteen years old and read it for the first time.)
Q: Who is your favorite Greek mythology character?
It's hard to pick a favorite, especially since a lot of characters in Greek mythology are not exactly likable. But I've always liked Cassandra, the prophetess who's been cursed so that her predictions will never be believed. Because she always knows what will happen and can't change it, her position in the story is like the audience's, and that's a fascinating dynamic to me.
Q: Random fact about Cruel Beauty?
My inspirations included fairy tales, mythology, T. S. Eliot, and C. S. Lewis . . . but also Gene Luen Yang's brilliant little comic book Prime Baby. I can't tell you why, because it's a spoiler for both books; just read it. You won't regret it.
Q: I read on your website that your new book, Crimson Bound, will be out next year! Could you describe it in 3 words?
Swords. Guilt. Nightfall.
Thank you so much for your time, Rosamund! Make sure you follow her on the interwebs!
Goodreads | Twitter | Website